This is the first in a series of city case studies. Without exception they will be of cities and more specifically downtown cores that I've been to more than once and have a good grasp of what they have to offer. All photography, maps not withstanding, will be our personal photography.


The first in this series is Baltimore, Maryland. Between November of 2005 and April of 2006, my wife and I spent three weekends in Baltimore for a variety of reasons, stayed in a variety of accomodations, and utilized a variety of transportation modes.

Getting to Baltimore

Baltimore/Washington International Airport (BWI) is a fairly major national airport. When traveling by air, I am predisposed to trying to get the best deal possible. As a result I only buy Southwest (out of Buffalo), AirTran, and JetBlue tickets. BWI is a secondary hub for AirTran (16 destinations) and a focus city for Southwest (38 destinations).

I would include drive times, but the one time we drove home from Baltimore was one of the most miserable experiences in my life and I slept for a good chunk of it! Instead, let's look into the various rail transportation options.

In 2005, Baltimore's Penn Station ranked 8th in the United States in total Amtrak ridership. The city is served by the Acela Express, Palmetto, Carolinian, Silver Star, Silver Meteor, Vermonter, Crescent, and Regional trains. Additionally, MARC trains connect Baltimore to Washington D.C.

Center City


Downtown Baltimore is centered around what's known as the Inner Harbor District. In 1980, Harborplace, an urban mall, replaced vacant warehouses followed by the National Aquarium. As a result, the inner harbor has spawned more business predicated on tourism. In the past, downtown North of the inner harbor was simply a business district, but its population has doubled since 2002 and 7,400 additional housing units are expected. Inner Harbor/Downtown is also home to the Lexington Market, Baltimore Convention Center, Sports Legends Museum of Baltimore, 1st Mariner Arena, Oriole Park at Camden Yards, M&T Bank Stadium, the Power Plant dining and entertainment re-development, the Maryland Science Center, and the Port Discovery Kids Museum.

Surrounding Neighborhoods


The peripheral neighborhoods that border downtown are well worth a trip for someone looking for something less touristy. The small yet steeped in history Ridgely's Delight neighborhood is full of many mid 19th century townhouses including the one that birthed the Great American baseball icon, Babe Ruth. His birthplace has been transformed into a museum of accomplishment which should not be missed on any trip to the city. The neighborhood is in the shadow of the home of the Baltimore Orioles and its unique synergy having been built on the site of Babe Ruth's father's tavern.


Washington Village to the west contains the B&O Railroad Museum while to the South, Federal Hill Park in the Federal Hill neighborhood offers up a stunning vista from which to view the activity in the inner harbor. This is a largely gentrified residential neighborhood that also includes the Cross Street Market.


A little bit north of downtown, the Mid-Town/Belvedere neighborhood lays claim to the cultural center of the city and possibly the entire state. At Meyerhoff Symphony Hall, the Baltimore Symphony Orchestra scores bonus points for being the first U.S. Symphony to host the irreverent piano-rock star Ben Folds and perform multiple concerts of his work arranged for full orchestra. The Lyric Opera House, Baltimore Theatre Project, and Maryland Institute College of Art also call this neighborhood home. In addition foreign and independent films are screened at the Charles Theatre just north in Charles North along with the Everyman Theatre Company.

Sandwiched between Mid-Town and Downtown is the Mount Vernon neighborhood which could claim to be a cultural center as well. Host to the Peabody Institute, Center Stage, Spotlighters Theatre, the Walters Art Museum, and the Maryland Historical Society, Mount Vernon also reaches back in time to honor the founding fathers with the original Washington Monument in the United States.


Just east of downtown, but still within walking distance is Little Italy, home to Baltimore's best Italian Restaurants. Beyond that is Fell's Point, the true gem in the Baltimore experience. Founded in 1730, Fell's Point became a shipbuilding and commerical center and is still home to City Pier. Some of the first vessels commissioned by the U.S. Navy were built in Fell's Point yards. Today the area is home to the historic Broadway Market as well as over 120 pubs. No matter what your style is, you can have a great night out at Fell's Point.

Getting Around Baltimore

Baltimore has a decent public transportation system highlighted by a real subway as well as a light rail route operated by the Maryland Transit Administration (MTA). MTA's best bargain is a daypass for $3.50 that allows unlimited use of the bus, Light Rail, and Metro Subway on the day purchased. The Regional System Map and Downtown Baltimore System Map are a little unruly since they are flash driven but I'll link to them nevertheless. A more useful map showing a merge of only rail lines is co-opted from urbanrail.net below: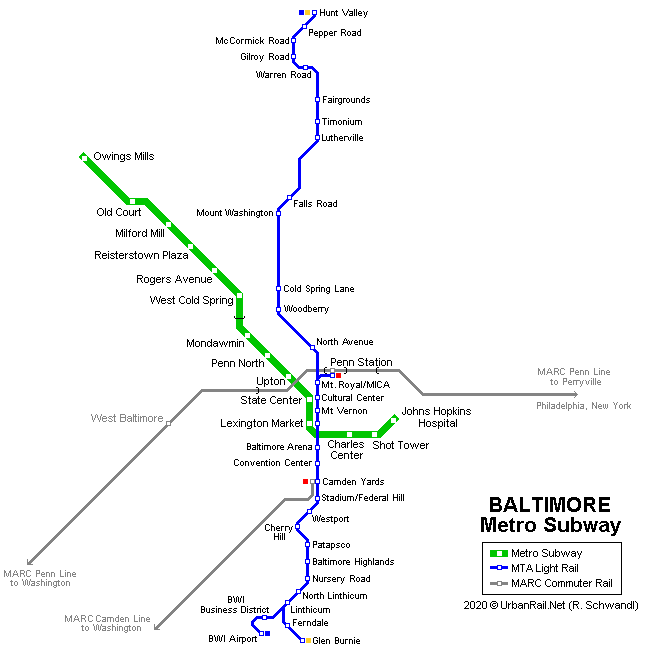 Rail Notes:

An important thing to remember is that Lexington Market is the approximate junction of the Metro Subway and the Light Rail.
The most useful aspect of this system for a traveler is the final stop at the south end of the Blue Line, a front door dropoff at the International Terminal of BWI.
Shot Tower (where shot was actually produced through a gravity powered cooling process)/Market Place is the station in closest proximity to Fell's Point.
All stops on the Metro northwest of Penn North have Park and Ride facilities.
The Metro is above ground northwest of Mondawmin.
The Light Rail has stops at each major sporting facility.
Another enjoyable option for getting around Baltimore, especially those areas closest to the water, is the Water Taxi. For $8 an adult can ride unlimited between 13 different landings (some seasonal like Fort McHenry, birthplace of the Star Spangled Banner) on the waterfront. Participating businesses offer discounts to Water Taxi customers which can offset the price of the ticket.
Water Taxi Landings:

#1 - Aquarium
#2 - Harborplace
#3 - Science Center
#4 - Rusty Scupper (Seafood Restaurant/Bar)
#5 - Little Italy
#7 - Harbor East
#8 - Maritime Park (Fells Point)
#9 - Harborview (Temporarily Closed)
#10 - Tide Point
#11 - Fell's Point (Transfer for Fort McHenry and Canton Landings)
#14 - Captain James Landing (Fell's Point/Canton Boundary)
#16 - Canton Waterfront Park
#17 - Fort McHenry (April 1st thru September 30 before 5 PM)
Accomodations in Baltimore
Hotels in the inner harbor area are generally pretty expensive, but with some creativity you can find a place close to a rail route and save quite a bit of money. The following are Baltimore hotels we have stayed in, the general price range (for a 1/25/08 booking), and reasoning/transport tips behind each.
Hampton Inn Baltimore/Washington International Airport Hotel
829 Elkridge Landing Road, Linthicum, Maryland
We stayed at the Hampton the weekend that we flew in on Southwest from Buffalo for the Ben Folds/BSO concert on fairly short notice and no prior Baltimore experience. Room rates range from $89 to $129. A complimentary airport shuttle is necessary to pick you up from the airport as well as ferry you to the BWI Business District Light Rail station.
Howard Johnson Pikesville
407 Reisterstown Road, Pikesville, Maryland
When we stayed here during an NFL weekend, it was an Econo Lodge with some marginally shady characters hanging around the lobby (one solicited me with an offer to earn some money). It would appear that since being taken over by Howard Johnson, a lot of that has been cleaned up and amenities like high speed internet have been added. This was the infamous driving weekend and it was chosen due to its proximity to the Metro's Milford Mill Park and Ride station. Room rates range from $60-$110.
Motel 6 Baltimore - BWI Airport
5179 Raynor Avenue, Linthicum Heights, Maryland
We stayed two nights here for a very reasonable price. It was across the street from a Hardee's and a KFC I believe. The Nursery Road Station on the Light Rail was within walking distance (exactly 1 mile). On the plus side, you got to really get a sense of what non-bourg suburban Maryland was like. Very modest houses in that neighborhood were selling for upwards of $350K at the time (April 2006). Another plus is the liquor/beer store close to the train station for picking up 12 packs of National Bohemian, a drinkable piece of Baltimore Culture to lug around in your backpack. The Click 6 Rate is $57
Days Inn Inner Harbor Hotel
100 Hopkins Place, Baltimore, Maryland
After spending two nights in economy class, we decided to splurge a little on a more central location for our last night in Baltimore. The hotel is extremely conveniently located just a block from the Convention Center Light Rail Station, perfect for getting to the airport. Standard short-notice rate is $149. Proximity to the ballpark is excellent for baseball fans.
I'm sure there are other options and if I were planning a spring Baltimore trip (late April is a pretty good time to go before the heat is oppressive), my first stop would be Orbitz to get a feel for rates around the area. I never book with orbitz anymore though, I go direct with each hotel, it generally is the best fixed rate.
So there you have it. My first urban case study. I know case study is an odd descriptor for what might otherwise be called a city guide since I don't delve into socioeconomics, but whats being studied here is the urban experience. I don't subscribe to the theory that a city without household name industrial employers can't be a great place to live. Use this guide to familiarize yourself with the urban core.